It's full of entertainment that's as fun as his face
Hurry hurry follow me

Right from the start, the atmosphere of disciplining handsome guys  
Was the glam photo this good? 
Official image – it's Heaven… Ji Chang Wook is an angel…
I don't like actor Ji Chang Wook today.. 
(meaning I love you because it's not good)
Is Ji Chang Wook a warm tone? Is he a cool tone?
I'm just a plankton in love with you, Ji Chang Wook
______________________
Just sitting down for an interview
The only thing that shines like this is Actor Ji Chang Wook (◍•ᴗ•◍)♡ ✧*。
Before we watch the behind-the-scenes clip, should we review the production video for <Annarasumanara>?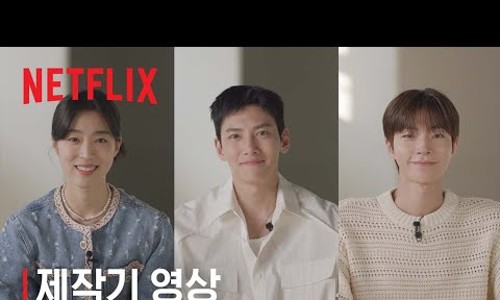 https://youtu.be/4V3n75WdQWE
You can see in the production video clip how much Actor Ji loves his work
A man who works hard with a serious look, isn't he cool? 
Do you know that man is Ji Chang Wook? ꈍ◡ꈍ
Just by looking at the pictures, it's a laughter party! A prop party!
This is the behind-scenes of <RING or BLING>  ⁽⁽*( ᐖ )*⁾⁾ ₍₍*( ᐛ )*₎₎
I'm not the only one who can watch funny things
Everyone come ring the laughter bell
Actor Changwook, who steamrolled down with a roaring chant even before the start
Annarasumanara!
The penalty tie is also like the original costume – clap clap clap! 
He's good on his own (。•`ω-)✧
Props are changed if you let your guard down
Hot! Hot! Hot!  Ji Chang Wook, who burned up with excitement
Ta-da – as a wizard  ★ Final transformation complete ★
Netflix RING or BLING, which was full of fun to watch!
See you in the next post.  Ppyororong!  ~ ☆
Source:  Glorious Entertainment Naver Blog
Translated from Korean to English by cherkell; there may be slight inaccuracies. PLEASE DO NOT REPRINT, REPURPOSE, SCREENCAP OR OTHERWISE COPY OUR CONTENT WITHOUT WRITTEN PERMISSION.