Netflix's "Annarasumanara" attracted attention by releasing posters of characters such as Lee Eul, Yoon Ai, and Na Il Deung, who are comforted and grow up through each other.
One day in front of Yoon Ai, a girl who has lost her dream, and Na Il Deung, a boy who was forced to dream, a mysterious magician named Lee Eul suddenly appears.  The fantasy music drama 'Annarasumanara' has unveiled posters containing the three characters who meet and grow up through each other.  
The released character posters have a dreamy atmosphere and a phrase that makes you curious about the stories of Lee Eul (played by Ji Chang Wook), Yoon Ai (played by Choi Sung Eun), and Na Il Deung (played by Hwang In Yeop), sparking interest in "Annarasumanara."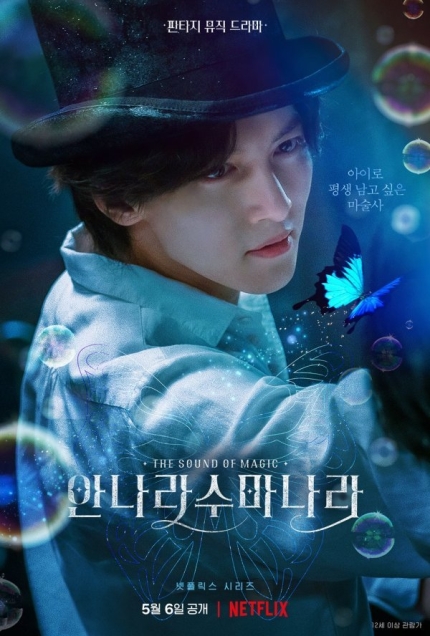 The magician Lee Eul, who stares at someone as if casting a spell, with the blue butterfly flying beside him creates a fantastic atmosphere, adding to the expectations of the magical moments that Lee Eul will create. Ji Chang Wook's face, which director Kim Sung Yoon praised, saying "Thanks to his playfulness and boyishness, Lee Eul's innocence stood out and expressed the dual aspects of the character well," stimulates interest in what kind of story Lee Eul will unfold.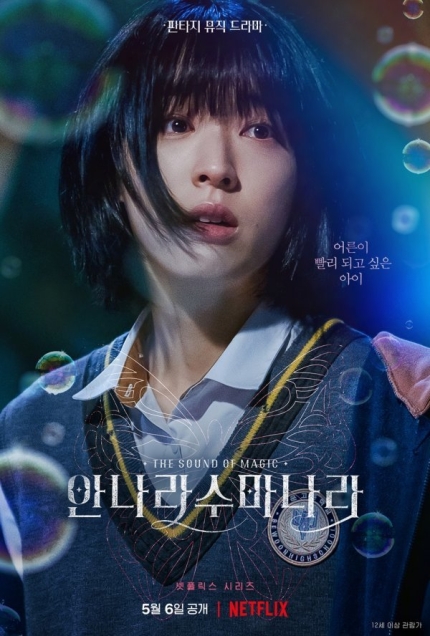 Yoon Ai, who wants to run through time to become an adult to escape harsh reality, tries to turn a blind eye to Lee Eul, who claims to be a real magician, but wants to believe him after he appears at a time of crisis and gives words of comfort that no one has ever given her.  Choi Sung Eun's eyes, which writer Kim Min Jung mentioned, "A really good actor who fills the screen without lines," contain all the pangs and excitement of Yoon Ai.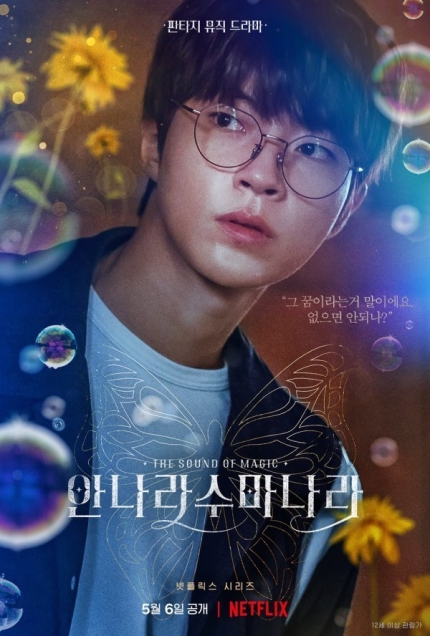 Na Il Deung represents the face of conflicting youth.  Having only dreams and studies forced by his parents, he meets Yoon Ai and Lee Eul, and looks back on where he is heading for for the first time to find what he really wants.  Ji Chang Wook praised Hwang In Yeop, saying, "The charm of actor Hwang In Yeop and the character Na Il Deung meet to show great synergy," raising expectations for the colorful charm of Na Il Deung drawn by Hwang In Yeop.
Meanwhile, "Annarasumanara" will be released on 6 May. [Note:  All episodes will be released at once via Netfilx.]
Sources: 
NewsOne
;
TVDaily.com
; photos courtesy of Netflix Korea
Translated from Korean to English by cherkell; there may be slight inaccuracies. PLEASE DO NOT REPRINT, REPURPOSE, SCREENCAP OR OTHERWISE COPY OUR CONTENT WITHOUT WRITTEN PERMISSION.